ALR-F800
Self-Optimizing Enterprise RFID Reader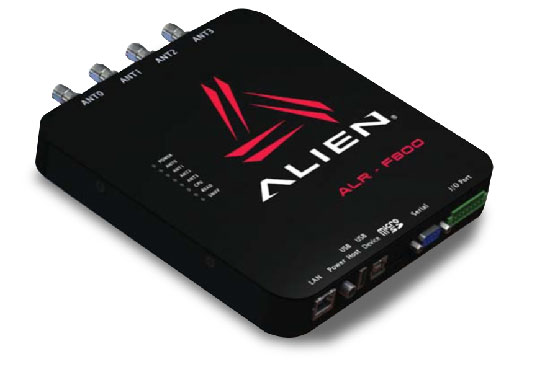 Featuring a new fifth-generation reader architecture that intelligently adapts and configures based on its environment, the ALR-F800 provides the industry's best Power over Ethernet (PoE) transmit power and performance.The ALR-F800 reader's discrete architecture offers substantial improvements in function and performance over existing products in the market, enabling new levels of flexibility for system enhancements and future proofing. The improvements include industry standard MicroSD and USB slots for adding memory and additional capabilities such as cellular, Wi-Fi and Bluetooth.
Feature
Enabled By
Benefit
Ease of Use

Alien Reader Protocol or LLRP
Smart reader/autonomous mode
Alien Reader Control Architecture & Ruby
Power over Ethernet

Easy to set up and deploy
No additional costly controllers
Less maintenance and overhead

Industry leading PoE transmit power & power source agnostic

Under PoE power, outputs 31.5dBm – significantly more than other readers
Dynamically switches between power sources when power fails

No power supply expense or bulk
Uses standard PoE
Best read sensitivity when plenum/ceiling mounted
Increased reliability

Dynamically self-optimizing for best possible real-world performance
e.g. noisy or multi-reader environments

Dynamic "Smart-throttling" in adverse RF environments
Intelligent real-time Phase Cancellation
Maximizes the sensitivity and interference rejection in all environments
Other confidential techniques

Robust against significant tag collisions
Maintains optimal sensitivity even in highly reflective environments
More likely than competitors to read tags in high interference environments (other readers and RF sources)

Extensible and obsolescence proof

Reconfigurable RF subsystem – Enables RF performance upgrades
MicroSDslot
USBHost

Firmware modernization
Enables virtually any amount of memory to be added
Add external peripherals including cellular, WiFi or BT
These products are covered by one or more of the following U.S. patents: 7716208, 7716160, 7688206, 7671720, 7659822, 7619531, 7615479, 7598867, 7580378, 7576656, 7562083, 7561221, 7559486, 7559131, 7554451, 7411503, 7385284, 7377445, 7364084, 7353598, 7342490, 7324061, 7321159, 7301458, 7295114, 7288432, 7265675, 7262686, 7215249, 7214569, 7199527, 7193504, 7173528, 7172910, 7172789, 7141176, 7113250, 7101502, 7080444, 7070851, 7068224, 7046328, 6998644, 6988667, 6985361, 6980184, 6970219, 6952157. Other patents pending.
Videos
Features
Global EPC Gen 2 platform
Automatic inventory optimization
Feature-rich Alien Reader Protocol
Dynamic Authentication of Higgs ICs
Exceptional sensitivity and performance
Automode, with on-board state machine
High read rates for demanding applications
Enhanced noise rejection for reliable data capture
RSSI & speed filters
Easy RFID software integration
Easily configurable and upgradable
Industrial, installation-friendly I/O connector
Antenna reflection cancellation optimization
Supports extended / custom Higgs™ IC features
Auto "Seek" function for low duty cycle applications
RoHS EU 2002/95/EC compliant
How To Buy
Documents & Downloads
ALR-F800 Documents

ALR-F800 Software

Archive
For all versions of Alien Reader Software, Gateway and SDK, visit our archive.