ALX-2525 & ALX-2530
Nexus Multiplexor & Controller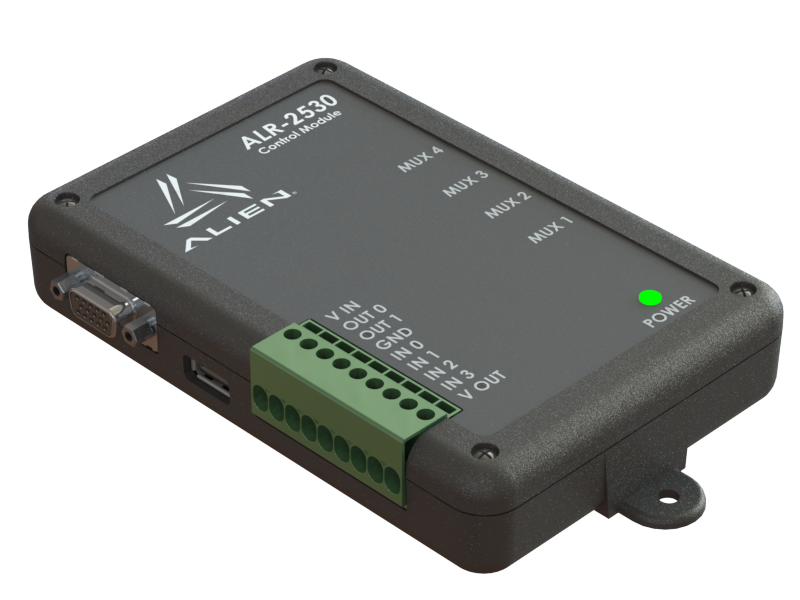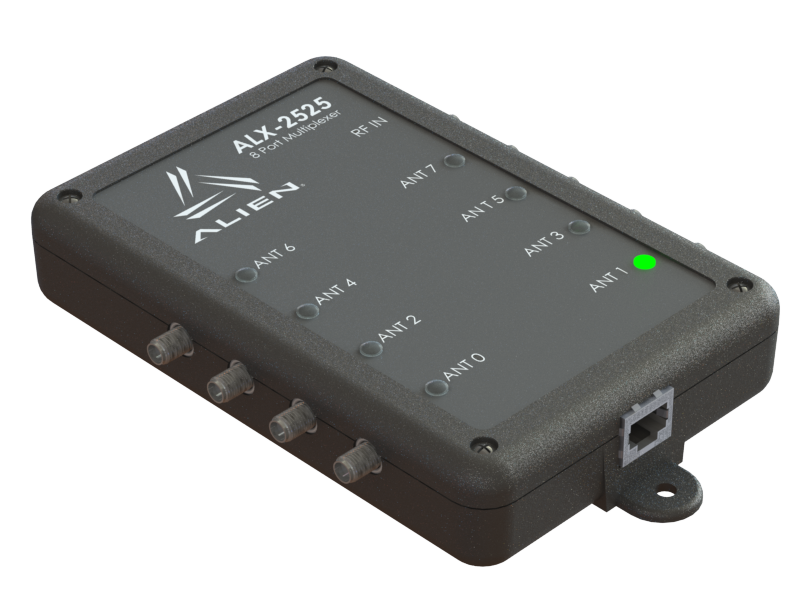 With full Capability, Scalability & Ease-of-use, Alien Nexus Multiplexor (MUX) brings expansion & management of added read points to a single reader, at a fraction of the cost of adding additional reader hardware.
Control up to 32 antennas with a single F800-series reader
Plug & Play configure & control with standard reader commands
Run & power GPIO peripherals direct from the controller
No custom / special software needed to run!
Need
Feature
Benefit
Easy multiple antenna management:

Installation
Configuration
Maintenance

Plug and play configuration & operability
Use any combination of Alien RFID antennas
Changes to settings are done with standard Alien Reader Protocol commands

Reduced time to deployment
Special software development not required
Use antennas that suit application

Multiple power options for Multiplexor and GPIO peripherals

User may choose to power NEXUS with +5VDC USB from F800 series reader, +12VDC from F800 or +6-24VDC external power supply
Same power options for GPIO peripherals (e.g. light stacks, motion sensors, switches, etc.) are available

Use what is right for the application and not choose based on limitation of options
No change to electrical wiring or power source for GPIO peripherals
What is Nexus?
The Alien Nexus multiplexor system enables plug & play deployment of up to 32 added read points / read zones to a single ALR-F800 series RFID fixed reader.
Continuing the Alien hallmark of ease of configuration, use and scalability, Nexus connects is able to be configured and operated using standard Alien Reader Protocol (ARP) commands, thus eliminating the need to have custom / special software written and maintained at additional cost.
Nexus consists of:
ALX-2530 Controller providing up to 4 Multiplexor connections
Each ALX-2525 Multiplexor (MUX) allows up to 8 antenna connections
The ALX-2530 Controller connects and powers up to 2 Output and 4 Input peripherals
Choice of 3 lengths of antenna coax cable and Controller cable for flexibility of antenna & component placement without need for service loops and excess cable management
These products are covered by one or more of the following U.S. patents: 7716208, 7716160, 7688206, 7671720, 7659822, 7619531, 7615479, 7598867, 7580378, 7576656, 7562083, 7561221, 7559486, 7559131, 7554451, 7411503, 7385284, 7377445, 7364084, 7353598, 7342490, 7324061, 7321159, 7301458, 7295114, 7288432, 7265675, 7262686, 7215249, 7214569, 7199527, 7193504, 7173528, 7172910, 7172789, 7141176, 7113250, 7101502, 7080444, 7070851, 7068224, 7046328, 6998644, 6988667, 6985361, 6980184, 6970219, 6952157. Other patents pending.
Features
Direct connection to all F800-series readers
Multiple power options for MUX
Compatible with all Alien RFID antennas
Compatible with all Alien RFID antennas
How To Buy
Other Documents & Downloads