ALR-S350 Sled Handheld
Universal Mobile RFID without the Hassle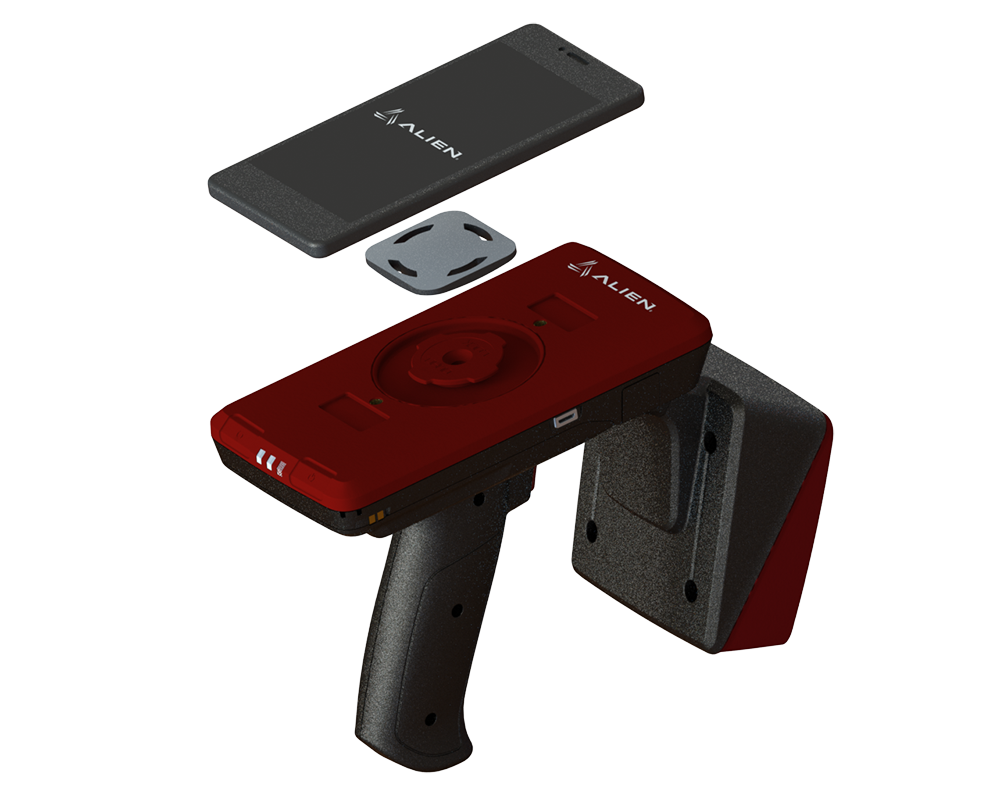 The ALR-S350 is a robust, simple to use UHF passive RFID sled designed for all day intensive use. The sled characteristics provides the flexibility to use your preferred operating system type/version while enabling access to the latest generation in communications infrastructure without being tied more slowly evolving monolithic device.
Benefits
Feature
Enabled By
Benefit
Long Battery Life

Double-capacity single battery
Low power electronics

Up to 24 hours of intensive use

Robust Design

Dust and water ingress protection (IP54)
Solid drop tested design (1.5m/4,9ft)
Quadlock® robust phone mounting

Robust to normal knocks and drops despite being a sled form-factor
Simple to Use

Effortless Bluetooth 4.2 (Low Energy) connectivity
Single battery operation – only one battery to manage

Simple smart device pairing
No battery swapping required
Dual battery systems may not operate when one of the batteries is weak

Operating System and Communications Technology Agnostic

Sled design splits RFID from Comms and O/S
Apps dowloadable from the Apple App Store and the Google Play Store

Use Android or iOS
Use LTE of next gen 5G services
Use latest WiFi 802.11ac, ad etc
Use a phone, tablet or media player (e.g. iPod Touch)
These products are covered by one or more of the following U.S. patents: 7716208, 7716160, 7688206, 7671720, 7659822, 7619531, 7615479, 7598867, 7580378, 7576656, 7562083, 7561221, 7559486, 7559131, 7554451, 7411503, 7385284, 7377445, 7364084, 7353598, 7342490, 7324061, 7321159, 7301458, 7295114, 7288432, 7265675, 7262686, 7215249, 7214569, 7199527, 7193504, 7173528, 7172910, 7172789, 7141176, 7113250, 7101502, 7080444, 7070851, 7068224, 7046328, 6998644, 6988667, 6985361, 6980184, 6970219, 6952157. Other patents pending.
Standard features include:
Supports Apple iOS® and Google Android® via Smart Device
Enables LTE and 802.11ac/ad via Smart Device
ETSI 865.6–867.6 MHz or FCC/IC 902–928 MHz
ERP 2W/EIRP 3.3W
2D imager supporting all major 1D / 2D barcodes
Ergonomic 320 g / 11.3 oz
Robust Quadlock™ physical smart device connection
Bluetooth Low Energy communications to Smart Device
Documents & Downloads
ALR-S350 Documents



Archive
For all versions of Alien Reader Software, Gateway and SDK, visit our archive.