ALR-H460
Android Portable Ruggedized Computer For Data Collection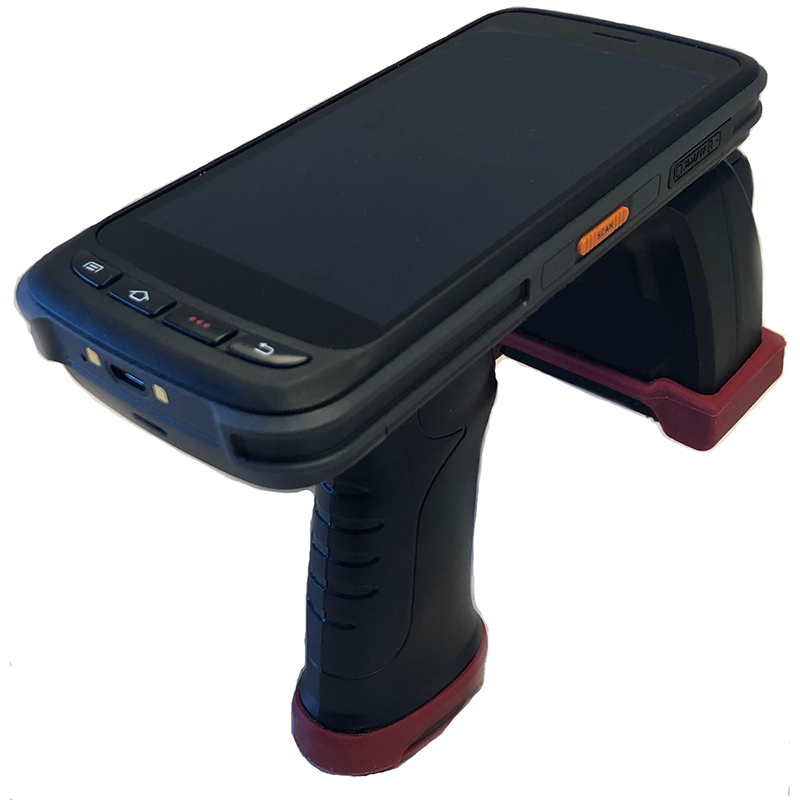 The Alien ALR-H460 is the ultimate RFID handheld device, featuring unsurpassed data processing capability, memory, ergonomics, and affordability, in one compact package. It is feature-rich, and combines best-in-class ease of use and integration tools with a powerful RFID engine, enabling exceptional performance in the most demanding of scan environments and applications.
Benefits
Benefit
Enabled By:
What does this mean to me?
Ease of Use

Large 5.2" 1920×1080 resolution display
High capacity lithium-polymer battery
Open source Android software development

Simplifies data input
All day usage without recharging
Easy to provide custom apps

High Performance

Unique high-performance, high gain antenna
Cortex-A53 Quad-Core 1.3 GHz CPU
Android 6.0 Operating System

Superior read range
Fast data collection & processing
Proven Android speed & agility

A feature-rich handheld

WiFi 802.11 b/g/n
4G cellular built in
Bluetooth 4.0 BLE
13MP Auto-focus camera with flash
GPS

Wireless simplicity
Always connected
Allows connection to corporate networks

Robust Design

Dust and water ingress protection (IP64)
Solid drop tested design (1.0m/3ft)

Shock-resistant rubber seals used to ensure durability giving full IP64 water/dust proofing and 1.0M/3ft drop qualification
These products are covered by one or more of the following U.S. patents: 7716208, 7716160, 7688206, 7671720, 7659822, 7619531, 7615479, 7598867, 7580378, 7576656, 7562083, 7561221, 7559486, 7559131, 7554451, 7411503, 7385284, 7377445, 7364084, 7353598, 7342490, 7324061, 7321159, 7301458, 7295114, 7288432, 7265675, 7262686, 7215249, 7214569, 7199527, 7193504, 7173528, 7172910, 7172789, 7141176, 7113250, 7101502, 7080444, 7070851, 7068224, 7046328, 6998644, 6988667, 6985361, 6980184, 6970219, 6952157. Other patents pending.
Standard features include:
FCC 902–928 MHz
EIRP 3.3W
2D imager supporting all major 1D / 2D barcodes
13 MP Auto-focus camera with flash
Ergonomic design provides superior user comfort and use
Supports Wi-Fi, Bluetooth and 4G cellular connectivity
Robust IP64 sealing for dust and water resistance
Prolonged usage enabled by built-in 8,000 mAh Li-Po rechargeable battery
Android 6.0 OS
Documents & Downloads
ALR-H460 Documents

ALR-H450 & H460 Software

Archive
For all versions of Alien Reader Software, Gateway and SDK, visit our archive.