ALR-F3700 Hydra Series
Interconnected Reader/Antenna Combination with self-healing power and data networking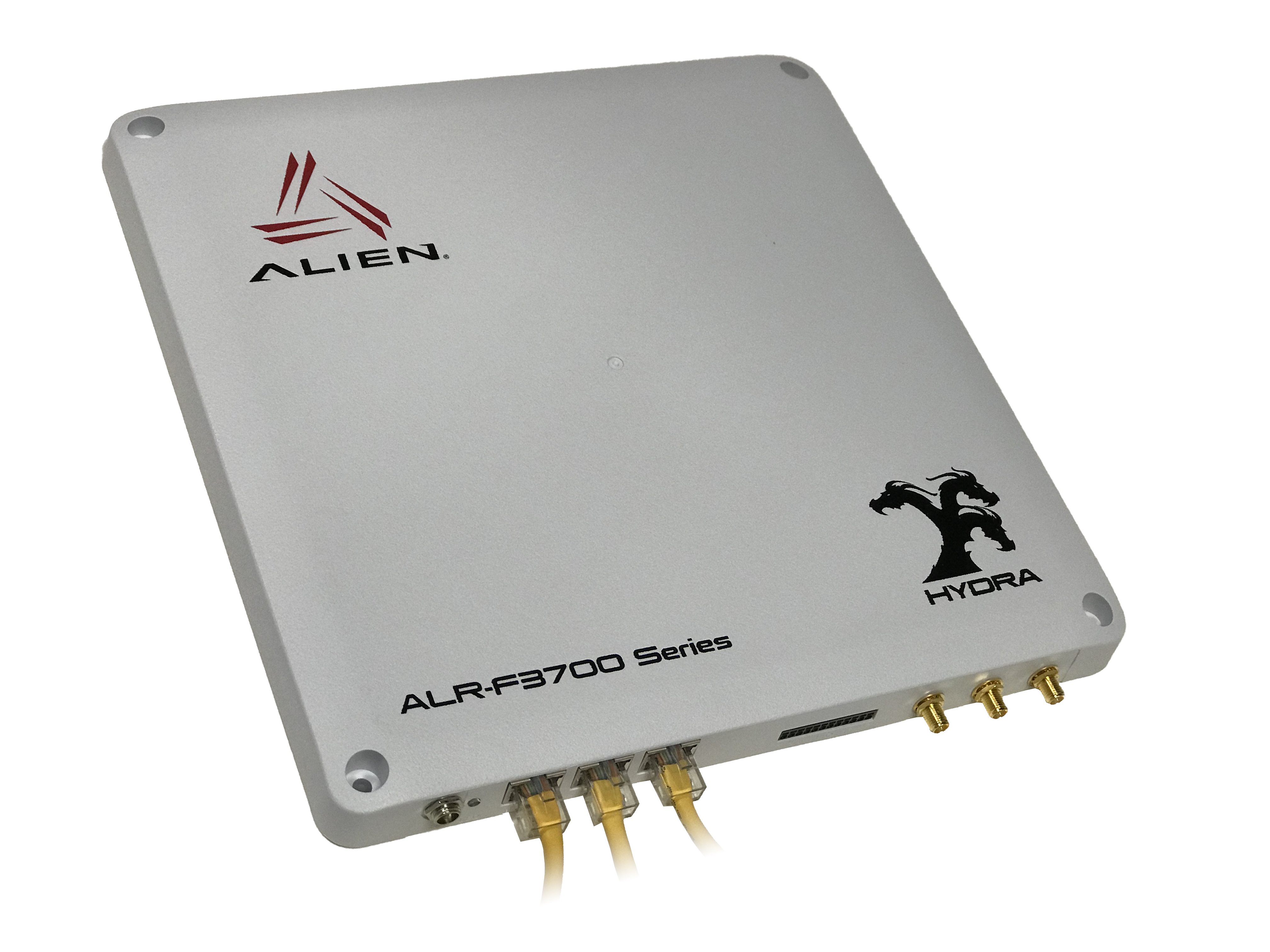 Hydra is a totally novel UHF Passive RFID Reader solution designed to lower RFID implementation and running costs while enabling the realization of exhaustive read zones. Hydra readers combine a full-power 30dBm UHF reader, 8dBic antenna and a patent pending "Hydra" power and data router technology.
Benefits
Feature
Enabled By
Benefit
Lowers Implementation and Running Costs

Low-cost read point with integrated antenna
Simply connect PoE for data and power
Just connect each reader to it's nearest neighbor minimizing long cable runs.

Less up-font cost for capital equipment
Smaller cable runs (less cable to purchase)
Less cable means less installation costs

Extensible Solution – grows or shrinks with your RFID needs

Each reader inputs and outputs both power and data via Power-over-Ethernet (PoE) to the next reader.
Low cost per read point
Each reader contains an antenna
A poor read zone is addresses by adding another low cost read point and connecting it to its nearest neighbor for both power and data.

Allows all desired tags to be irradiated and made visible to at least one read point.
Bad read zones can be fixed by "daisy- chaining" another low-cost read point without breaking the Return-on-Investment (ROI) model
No long cable runs for added read points

Massively Simplifies Network Connectivity

PoE (power and data) in and out
ALR-3720 supports two PoE ports for daisy chaining
ALR-3733di supports 3 PoE ports for adding more complex topologies for data/power robustness

Simple, low cost installation
Lowers infrastructure and cable costs
Less to maintain

Designed to Work Seamlessly with the ALR-F800-X with Emissary

Like all Alien readers, Hydra's send a self- discovery heart-beat over the network
F800-X with Emissary manages a subnet of Hydra readers directly
License free Emissary manages the network and describes the work-flow of any alien reader combination

No need for a server to control a reader network
ALR-F800-X manages the Hydra network configuration and work flows…no programming required.

Robustness

Self healing network re-configuration on a cable failure
ALR-3733di enables more complex network topologies

Solution can be configured to tolerate certain network failures and automatically reconfigure both power and data (no human intervention required)
These products are covered by one or more of the following U.S. patents: 7716208, 7716160, 7688206, 7671720, 7659822, 7619531, 7615479, 7598867, 7580378, 7576656, 7562083, 7561221, 7559486, 7559131, 7554451, 7411503, 7385284, 7377445, 7364084, 7353598, 7342490, 7324061, 7321159, 7301458, 7295114, 7288432, 7265675, 7262686, 7215249, 7214569, 7199527, 7193504, 7173528, 7172910, 7172789, 7141176, 7113250, 7101502, 7080444, 7070851, 7068224, 7046328, 6998644, 6988667, 6985361, 6980184, 6970219, 6952157. Other patents pending.
Standard features include:
30dBm EPC Gen 2 Class 1 UHF Passive RFID Reader
8dBic Slimline Antenna
Built-in Mulitple-PoE Switch to Network Readers Together
"Hydra" Power and Data Routing
Low-Cost Reader Installation and Management
Works seamlessly with the ALR-F800-X with Emissary
Documents
ALR-F3700 Documents
| File | Action |
| --- | --- |
| ALR F3700 Series Datasheet (2017 11 09) | Download |